| | |
| --- | --- |
| Sector | Telecoms |
| Buying route | ABC1 Adults AGP, Film Packs |
| Audience | ABC1 Adults |
| Sector | Telecoms |
| Target Audience | ABC1 Adults |
| Package | ABC1 AGP, Film Pack |
| Copy Length | 30" & 60" |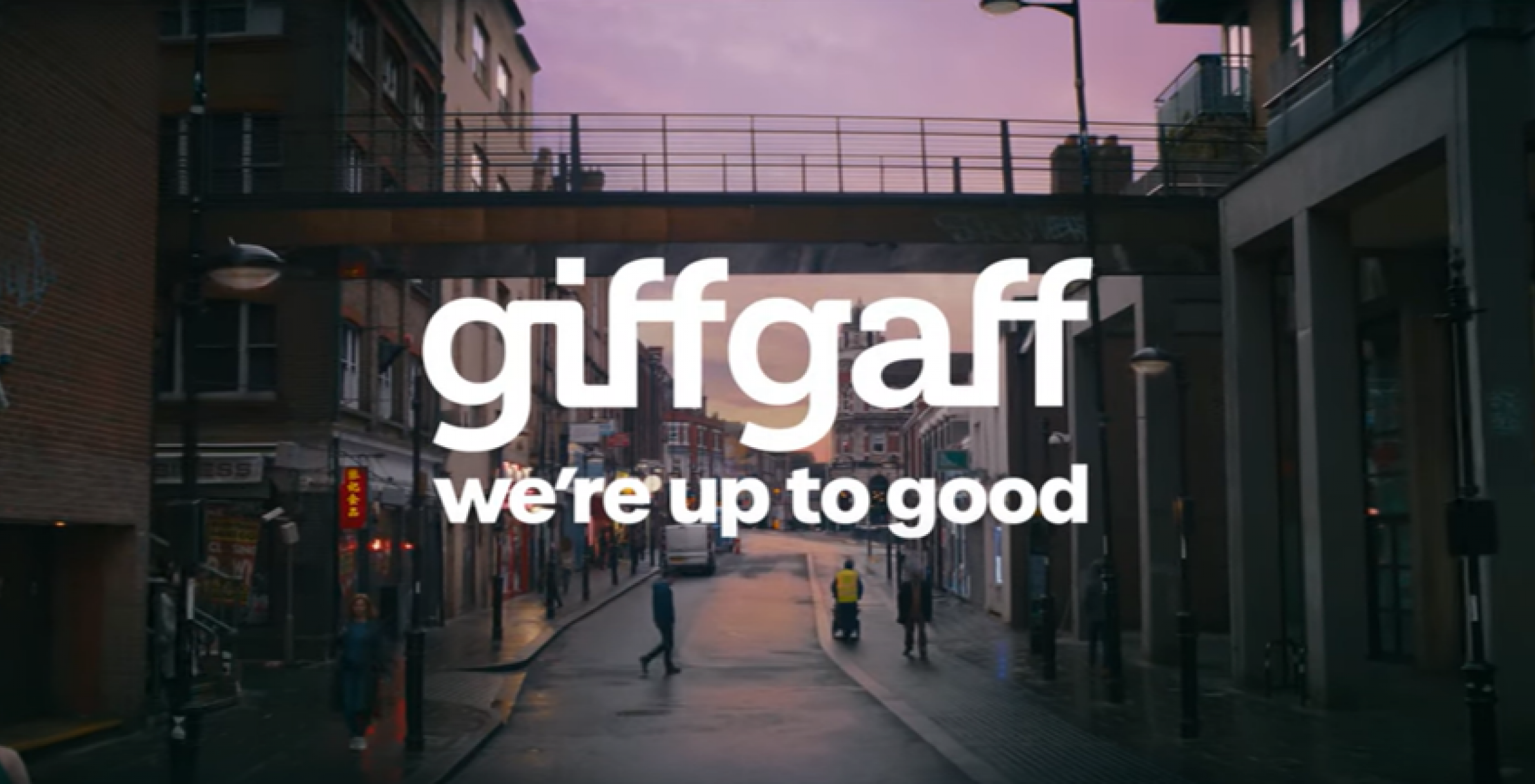 Background
From the get-go giffgaff have been seen as a disruptor brand pushing against the traditional telco market, and as such largely attracted a youth audience. The brand set out to reposition its role in the market, broadening its appeal to attract new audiences.
To relaunch the brand and deliver mass appeal, giffgaff knew it needed to stand out in an engaging environment that would allow them to differentiate themselves from the competition.
As one of only two mobile networks to be certified BCorp, giffgaff wanted to boldly show that its 'Up To Good' in many senses of the word: good for your pocket; good for consumers; and good for the planet.
Plan
Cinema had been previously absent on giffgaff's media plans for several years, but in search of channels that would allow the brand to communicate the key re-launch message with authority and confidence it was felt that the medium could play a key role play – both in generating the fame and efficient reach required.
Across the DCM estate, giffgaff ran in Guardians of the Galaxy Vol. 3 and a supporting ABC1 Adults AGP to cost-efficiently maximise reach. The opening two weeks of the AGP utilised the 60" copy to make the most of cinema's high attention environment at launch, before switching down to 30" to maintain longevity of the campaign.
Giffgaff also bought into two tactical P&D placements to align to contexts and moments, a Gold Spot in Renfield, and a bespoke 30" 'switch your phone off and enjoy the movie' ident that was perfect contextual alignment for a mobile provider.
Results
The relaunch campaign has proven to be hugely successful for giffgaff with research showing that spontaneous awareness – the key campaign metric - increased by +3pts as an immediate result of the initial burst. The brand continued to see the cumulative effect of this campaign months later still smashing sales targets.
Cinema was a key part of the campaign's success with the activity on the DCM estate communicating the key re-launch message to a broad audience and the contextual P&D creative helping drive engagement and fame beyond the core message.
Research conducted by Differentology highlighted the impact of cinema across giffgaff's key brand metrics:
+89% uplift in Brand familiarity
+38% uplift in Brand trust
+63% uplift in consideration
65% agreed they intended to take some form of action after seeing the ad